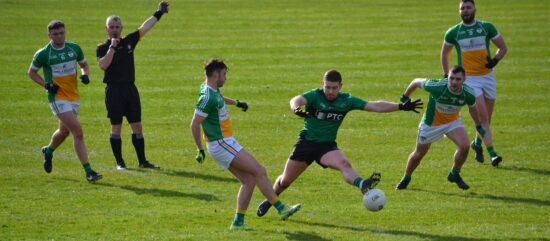 The senior footballers got their 2023 league campaign off to a winning start with a hard fought away win against Pádraig Sáirseil at the Bear Pit.
The first half was a very tight and cagey affair with both teams trading points early on with our scores coming from Gerard Slane (f) and Padraig McParland following a well worked spell of possession down the right side. A long range point from CJ Sullivan edged us in front but Na Sáirseil then gained the upper hand with a well taken goal and point to put us on the back foot. However, we responded well with points from Chris Rafferty (f) and after a great mark in the middle of the pitch from Ceavy Slane, he fed the pass to Jay Maguire who showed his composure to kick between the sticks to leave a single point between the sides. The remainder of the half continued in the same vain with both teams tagging on points, with our points from Chris Rafferty (f), Gerard Slane (f) and Padraig McParland ensuring we went in level at the break 1-5 to 0-8.
Gerard Slane opened the scoring in the second half with a pointed free but Na Sáirseil then enjoyed a good spell when they created several goal scoring opportunities including the award of a penalty, but they failed to convert on all accounts. We showed good character to regroup and in a mirror image of the first half picked of points when the chances arose to stay in the game. Points from Gerard Slane 0-2, Chris Rafferty, Aaron Slane 0-2 left us a point in arrears and with time running out we struck the vital goal from top scorer Gerard Slane to claim the victory 1-12 to 1-14.
Click here for photos of the game.