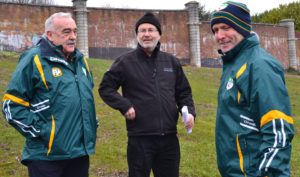 There was a good turn out this morning for the first phase of tree planting at our new sports complex. Club chairman, Tommy Shaw, thanked everyone for turning out on a cold morning and welcomed Noel Rice of Belfast Hill Partnership. Tommy used the analogy of the roots of the trees and their growth and compared this to laying the grass roots for our current senior players, juveniles and future generations. Noel explained the different types of trees that would be planted and how to plant them, before spades were passed out and everyone got the opportunity to plant a tree which they can call their own. Over the coming years everyone can now watch their tree flourish and grow which will hopefully mirror the progression and ambition of the club.
Again a special thank you to Noel and the Belfast Hill Partnership for their collaboration.
Check out the photos by clicking here. Further photos of the ongoing development can be checked out by clicking here.